Its been so long that I have written, and so many things have changed, that I've decided to make an entirely new blog. Mostly so my mom and friends can keep up with me. It's hard to tell who I've told what, when, or in how much detail.
So I'll try to start at the beginning…
It started last year (2008) in the beginning of September. I had no idea what I was getting myself into. I thought that I would learn a little about photography, then go to somewhere in Asia or Africa to see where I could be of use…and maybe even take someone's picture. Little did I know this trip would change my life forever. The people I met along the way in Ethiopia and Kenya will forever be on my heart. They live a totally different life in a totally different world that I wouldn't be able to believe or understand even if it were documented on a reality tv show (of course if that were the case, I definitely wouldn't watch it or care for that matter). But I was there. In the middle of life in this far-removed eastern culture.
WHAT HAPPENED?
We get to Addis Ababa, the capitol of Ethiopia in January knowing that there is a tribe down south who believe in a curse called Mingi. This belief leads to the killing of dozens of children and enfants yearly. They believe that if I child is either born out of wedlock, conceived without being announced to the elders, or have their teeth unfortunately grow of fall out of the top first, then the child is curse. This "curse" brings the land bad luck, possibly a drought, so the children must be banished from the land. The elders do one of two things: throw the child into the river, or tie them to a tree in the wilderness being left as prey to hyenas and lions. Are group felt that something must be done.
we originally had video of Bale (the first child)'s rescue, but it was stolen on our trip to Kenya…
here's a new one
A group of 4 girls set of to the south. They talked with the elders and discussed plans and hopes of taking the children off the land and caring for them. Through much prayer and discussion, the elders agreed. The rest of us headed that way and within 2 weeks after putting together team money and calling all of our supporters for a little help, we rescued 6 children and helped set up and orphanage. 11 children are now safe and sound in the arms of a former tribesman and elder, Lale. Mingi has been around for hundreds of years. Missionaries have wanted to do something, but never thought it was the right time. We couldn't see another child die. We stood up and acted. All it took was a little faith that God would take care of the rest after we took the first step. And he did. The orphanage is just temporary. We hope that the elders will see that these children are not a curse. They are a blessing. Every child is a blessing from God. Mingi has got to stop. We're standing up for what is right.
The orphanage is now home to 9 Children. All with their own AMAZING personalities and carefree spirits. I can't describe the feeling to you seeing these children alive, laughing, crying, playing with toys...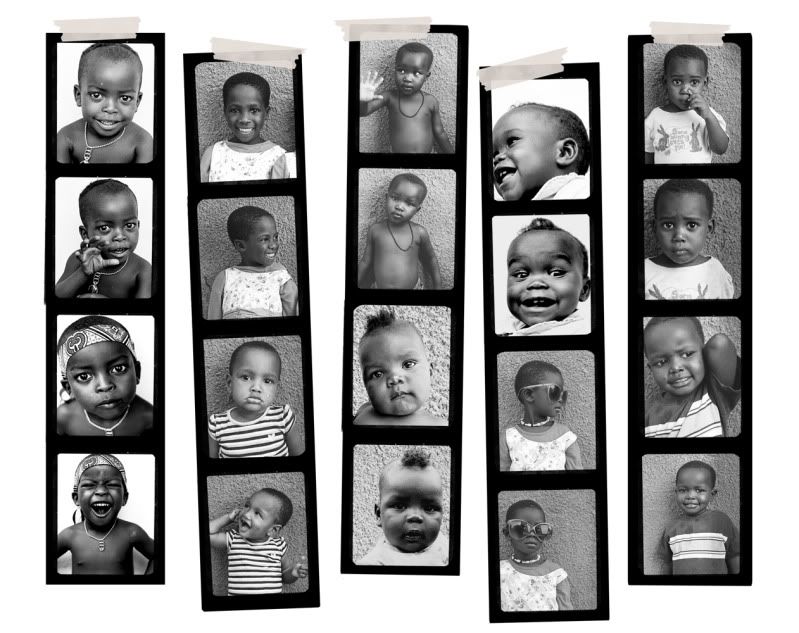 On our way back form the tribes, we stayed in a small town in south Ethiopia. There we met 4 girls and quickly became friends. They treated us to coffee and played cards with our group every night. We talked about their lives. Their dreams. They were all prostitutes. None by choice. The 4 each had a hard life growing up, either being beaten by fathers, raped by family members, in trouble with the law, or were to be forced into marriage to a man they did not love. They all expressed they did not want to be prostitutes. It was their only choice to survive and make money. They lacked education (even though they were strong in wit) and each wanted to go to school. They loved coffee, just like any other Ethiopian, and enjoyed serving us. They expressed that one day they would like to run a coffee shop. So of course our ever-so-eager-to-help team thought, "why not?"
Again we prayed as a group, gathered up a little money and helped them buy supplies and find a location for a shop. In the mean time (without our knowledge) all four of them stopped working as prostitutes and dedicated their focus on the shop. It was beautiful. These woman changed their entire life-style in a matter of days. They are now under the guidance of a woman at a local church to help minister to them spiritually and are being joined by a few staff members form the base this month to help with finances and getting the shop in order. The Rahab Cafe (named after Rahab the prostitute who favor with God) is just the beginning. We hope to start cafes all around the world to help woman seeking another choice other than prostitution.
This is just the beginning to something beautiful.
Back at home, all I can think is: I am so rich.
It was something I think about almost everyday now. I have so much compared to these people. But why? I'm nothing special. They work just as hard if not more for what they have and yet, monetarily speaking, I have a millions times more than they. I don't know why God would chose me to have such a blessed life. And I can't go on another day thinking that I deserve anything more than I have. That is why, from this point on, I am dedicating my life - or at least as long as I am called to serving the poor. To being a voice to those who otherwise would not be heard. Through art. Through music. Through whatever means I can. So they can be heard. Their cries of injustice, their hope for a better life. For showing the world that
WE'RE ALL IN THIS TOGETHER….
So in September I will be returning to Germany as a full time missionary and staff at
YWAM Hernnhut
. The Fine Arts DTS starts September 5th where I will be apart of a team that shows young adults how to use their gifts in art to serve the poor. In January we will be going to Thailand for an outreach to minister to the people in extreme poverty we meet there.
I'm so excited to bring back so many more stories like the ones in Africa!